Bling Bling Blinkers, Assorted Colors - FREE SHIPPING
Product Description
Petsport Bling Bling Blinkers - for safety...for fun...for people...for pets. Protect your pooch! Do it with style. Be safe, be seen. Bright LED visible for up to 1/2 mile. It's more than just a fashion statement ... it's a mini flashlight and a personal safety flasher. Comes in a clamshell package ready to display. Assorted 3 colors: Red Blinker (red/white/blue light), Pink Blinker (jade/pink light) and Blue Blinker (blue/white light).
Features
Protect your kids - Protect your pet - Protect yourself.
Bright led visible up to 1/2 mile
Batteries preloaded and extra batteries included
Rustproof anodized aluminum with carabineer clip
Product Details
Directions: Remove black plastic ring, tighten clockwise and push button to turn on. Press button again to turn off. Uses three AG3 batteries. Six are included. Water resistant. Do not submerge. If only one color is flashing, batteries are low. Additional instructions inside package.
*Colors:
Available in 3 colors: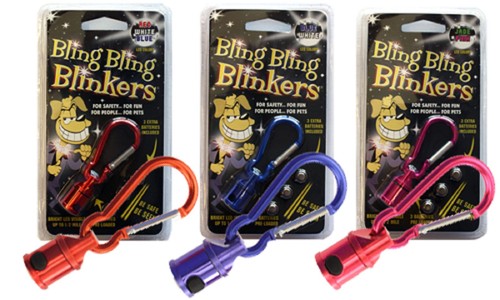 If you want a specific color, please contact us after ordering and we will let you know if the color you desire is available to send; otherwise, it will be selected randomly.
Blue base with Blue and White flashing light.
Red base with Red, White, and Blue flashing light.
Pink base with Jade and Pink flashing light.
* Typically, we will randomly select color at time of shipment.
Find Similar Products by Category